Toolbox


Practical Informations

Understanding the zipper

YKK zippers accompany you with the assurance of great quality. They adapt to all uses, from textiles to leather goods and industrial applications, and respect your products and their design.


Having a good understanding of zippers will allow you to choose the product that will suit your needs and the desired application.

Excella® Metal, Standard Metal, Spiral or Injected Plastic

At YKK, zippers are classified into 3 main families: metal, spiral and injected plastic, made up of 4 ranges:

Standard metal zippers, it is resistant and timeless. The metal chain is fixed by pressure on the tape. They have a raw look perfect for jeans.

Excella® Polished metal zippers : Each metal tooth is polished and treated before being crimped on the ribbon, All as resistant as classic metal, they give a softer and more elegant appearance than standard metal. Perfect for high-end products.

Spiral zippers are a polyester warp made up of a monofilament sewn on a ribbon allowing a homogeneous dyeing. It is a versatile closure intended for all types of use and available in many colors.

Injected plastic Vislon® zippers directly molded and injected on the tape.
With its light sporty side, this closure is perfectly suited for movement and for color lovers.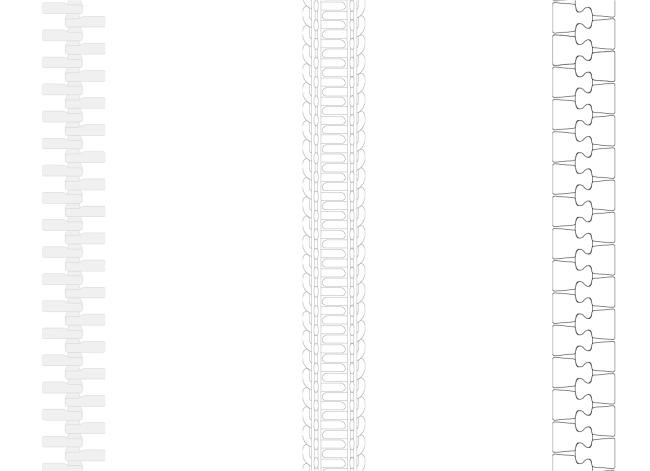 Choose your zipper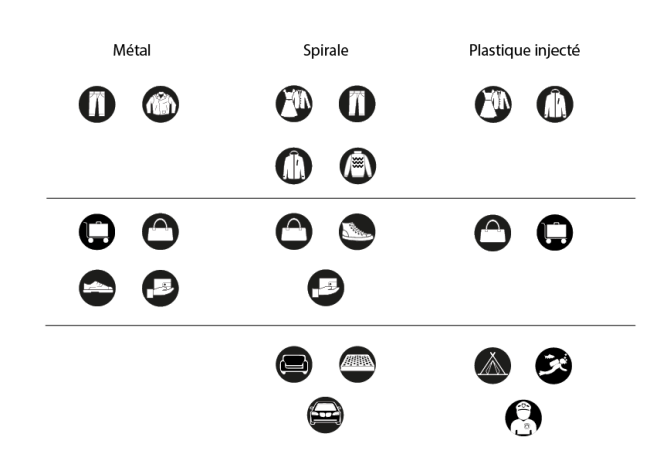 Choosing your zipper according to its use is not always easy. But each closure has its specificities. First determine which product it will be used for:



To associate with rather heavy products, with resistant materials such as jeans, leather, thick fabrics, opt for metal zippers.

For a versatile application, opt for a spiral zipper. It will fit on clothes as well as on small leather goods, bags, pockets, bedding, accessories, pants, covers of all types.. This is the most common closure.


For sports or outdoor clothing, choose injected plastic mesh instead, which will be quite resistant and more suitable for movement.


Functions and measurement of
zippers

Non-Separable zippers do not separate into two parts at the bottom like those of trouser flies, skirts. They can have one or two cursors.


Separable zippers completely separate into two parts like you would in any jacket or coat:
- With a box when there is a slider. The two parts of the zip separate completely.
- With an insert when there are two sliders, ideal for clothing and jacket fronts

Closed-end
Open-end

Open end dual sliders

Closed end dual sliders

The size of the zipper teeth: 3, 5, 8, 10 and 12?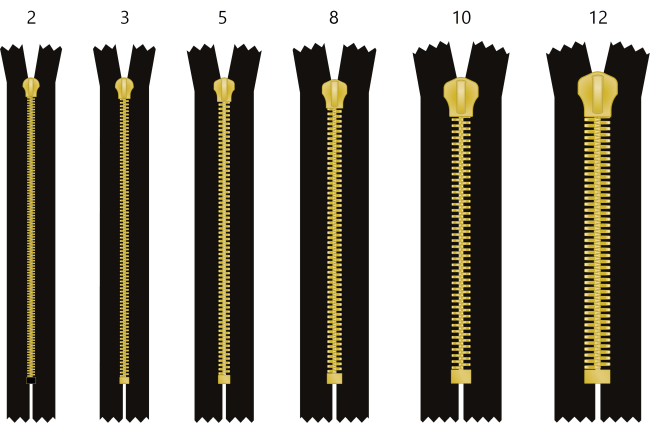 Like the sizes S, M, L and XL for your clothes, the sizes refer to the mesh of the zipper.
The larger the size, the more robust the closure and its ability to be used for heavy-duty applications.
So opt for a thicker knit depending on the material worked.


Mesh 2: Very fine look sought after as dresses or skirts
Knit 3: Small Leather Goods and Pockets
Mesh 5: Leather goods and center front in PaP
Mesh 8: Suitcases, large bags or covers - middle front heavy material in Pap
Knit 10/12: For an oversized look


For a balanced ready-to-wear look, the pockets will be one size below the center front.
The color and finish of the zipper
Color refers to the color of the ribbon, while finish is the treatment of the mesh or slider that will give a colorful appearance.

The Spirale and Vislon® closures are tone on tone and the sliders painted in the color of the ribbon.

For metal closures, color and finish should not be confused.
Many variations of mesh and slider finishes are available on our Excella® metal and metal products


Choose the color and finish that best suits the design of your product. Opt for a dark tone if you want the closure to blend into your product, and more colorful if you want to make it a particular detail.


For your information, we offer a choice of 47 permanent ribbon colors and 20 ephemeral colors renewed each season.
See the color range